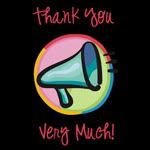 Thank you to my kid sister who hasn't called me back since I forgot her birthday...oops, love you kid.
Thank you to all the bleeding heart, left wing, tree hugging, liberals for making this first year of
socialist
leadership so productive. I'm truly amazed at all you have done for the American people.
To my wife for secretly declaring her crush on a hunky celebrity while on another blog, and then adding insult to injury by attempting to down play it with a picture of my handsome face on his clearly airbrushed body. Thank you very much.
To Baby Bub for deciding he will stay up until 11pm to share alone time with mommy and daddy at night. Thank you very much.
To the makers of
New
Super Mario Bros. wii whose game has consumed my wife and children, leaving me to care for Baby Bub, the dogs, and our daily responsibilities here at home. Thank you very much. I might also add that is why Brandi has been neglecting her blog, and trying to blame me.
Courtesy of
Kmama
...Check it out